Residential Heating & Furnace Repair In Skokie, IL
Best Chicagoland Area Home Heater Fixes
There's never a good time for your heating system to break down. At least, if or when it does, you know you can call on Topline HVAC for reliable heating and furnace repairs. Our highly-trained professionals are well-versed in the repair of all makes and models of heating systems and furnaces. When your heating system fails, call us and one of our certified HVAC technicians will arrive on the scene to diagnose and repair your heating system as soon as possible. With upfront pricing, expert technicians and over twenty years in business, we are the HVAC contractor Skokie, Morton Grove and Lake Villa homeowners call first for furnace repair.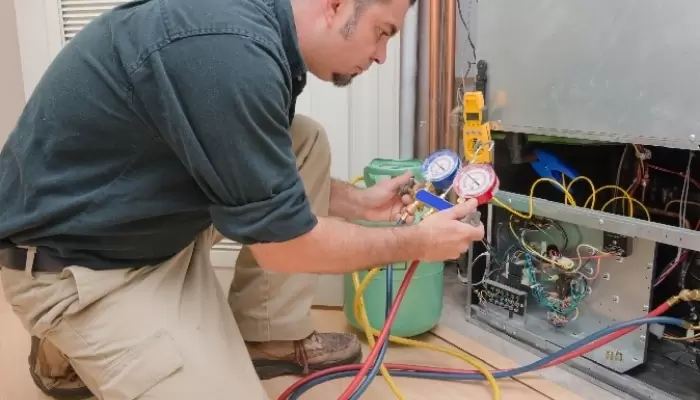 Does My Skokie Furnace Need A Repair Service?
Winter in Illinois can get cold fast. You don't want to have your furnace break down right in the middle of a cold snap. Keep an eye out for these warning signs that your furnace needs to be repaired or else you may run the risk of it shutting down completely:
The system is not keeping your home as warm as you want.
You hear loud bangs or thumping sounds coming from your unit.
Parts of your house are warm while other parts are cold.
Your gas or electric bill has gone up substantially.
* If you smell natural gas inside your home it's essential to call your local authorities immediately. If there is a gas leak it can be very dangerous in your home.
Best Local Professional Furnace Work
No matter what type of furnace you have, gas or electric, our technicians will be able to take a look and fix it. Have a heat pump? We're very experienced with heat pumps too. We will work on any make and model of heating system you have, no matter its age or condition. Connect with our team for the best local professional furnace repair service in Skokie, IL for any heating system issue!
Furnace Repair Chicago Area
Topline HVAC provides high-quality heating services, including replacements and routine maintenance, for homeowners in the Skokie, IL area. Our knowledgeable HVAC system specialists will gladly answer any questions you may have about your Chicago heating and cooling system.
Our specialists have received extensive training in order to deliver the best heating and AC service in Chicago. The mission of Topline HVAC is to promote quality and professionalism in the Illinois heating and air conditioning sector, as well as to exhibit care for our client's safety, comfort and health by offering exceptional services.
Call Topline HVAC at (866) 867-5463 today for fast, reliable home furnace repair and maintenance services now! And remember we also service air conditioning units too.