Local Expert AC Repair Near Skokie, IL
Residential Air Conditioning Repairs In Northern Chicago
Topline HVAC provides high-quality HVAC services and repairs for all types of systems, including central air conditioners to heat pumps. We will come in order to balance your Skokie home's system and complete the AC repair with skill and expertise so you can enjoy comfortable temperatures throughout the house. Our professional team is knowledgeable and experienced in order to service any make or model of residential air conditioning unit and ductless system. For the best in air conditioning repair for your Skokie area home, connect with Topline now.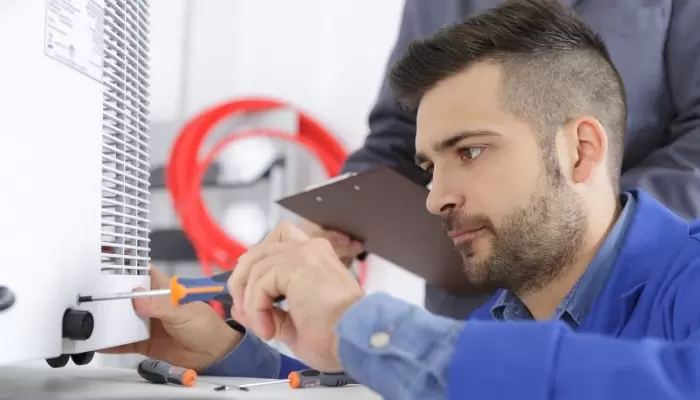 Does My Skokie AC Need To Be Repaired?
Your home's air conditioning system works hard to keep you and your family comfortable. There are a number of things that could prevent your AC unit from operating well. Here are some of the most common issues we see from our North Chicago area customers:
AC cycles on and off quickly, only running for a few minutes at a time.
The coils of the unit have frozen.
There is a block in the condensate line so water is leaking from the unit.
The air is not coming out of the vents very strongly.
The unit is blowing warm air instead of cool air.
If you notice any of these issues, the first thing you should do is change your air filter, especially if you have not done so in the past few months. If this does not seem to solve the problem, you probably need a certified technician to check out your system. For air conditioning repair Chicago residents can count on, turn to Topline today!
Get Efficient
High-efficiency air conditioning systems are a great investment for your wallet and comfort. The average homeowner who replaces their old unit with new technology will see up to 60% savings on cooling bills, which even if they have an older Chicago AC can still be rescued through the installation of efficiency upgrades like rooftop units or ductless mini split heat pumps!
Why Chicago Residents Should Hire Topline for Their AC Repair Needs
We provide quality heating and air conditioning services to fit your needs including replacements and regular maintenance. Our expert HVAC technicians are more than happy to provide you with the answers to the many questions that you might have about your heating and cooling system.
Our certified technicians are fully trained to provide the best heating and air conditioner service in the Skokie, Morton Grove and Lake Villa areas, as well as throughout Northern Chicago. Our goal is to promote quality and professionalism in the heating and cooling industry in the state of Illinois, as well as to demonstrate a concern for the safety, comfort and health of our customers by providing quality services.
Call Topline HVAC at (866) 867-5463 today for fast, reliable home air conditioning repairs to get back your cool and comfortable home!