Residential Heating Replacement Near Skokie, IL
New Furnace Installed For Homeowners In Northern Chicago
When your Skokie heating unit grows old and inefficient, it's time to consider replacing it. Because of our extensive experience and access to the essential gear, homeowners throughout the Chicago area turn to the pros at Topline HVAC as their top choice in heating contractors. A new furnace is a highly costly property purchase so you want to ensure that the installation is completed correctly the first time. A system that has been improperly installed may cost more to operate and pose a fire or gas leak risk. Our heating replacement pros have the right training and experience to correctly put in your new heater to keep you and your family safe and comfortable all winter long.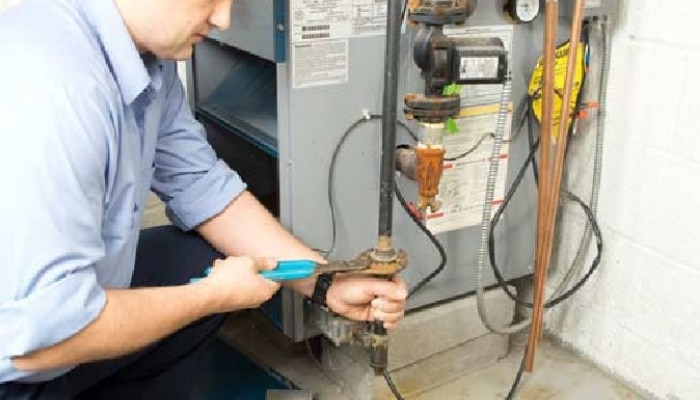 Is It Time For A New Furnace?
Some signs it may be time to replace your Skokie area home's heating system include:
Age - If your home's heater is older than fifteen years, any big repair is likely a hint that it's time to consider a new system.
Repairs - And speaking of heating repairs, if you're constantly calling an HVAC contractor to fix your unit, it's definitely time to replace it rather than repair it.
High Costs - Did you get your energy bill and do a double-take? Furnaces that aren't functioning properly must work more, which means they must run longer and less efficiently, causing your energy costs to skyrocket. Replacing your system rather than letting it run poorly may save you money in the long term.
Electric Furnace
Gas Furnace
Electric Heat Pump
Energy Efficient Heating
Boiler Heating Systems
Heating Installation From The Local Skokie Pros
First-time installations require a lot of work and knowledge. On top of creating a place for the heating unit, you must also install ductwork, registers and the thermostat. Specific tools are needed to do this along with the knowledge of proper unit placement.
If ductwork is not installed correctly or the unit is badly placed, the system will be less efficient. A bad electrical connection or improper gas hookup could pose serious danger. Do not assume that a replacement will be any easier.
This job could entail as much if not more work and knowledge. Time should be another concern. Depending on the time of the year, you may need the unit installed quickly. Without the right experience, the installation could take too much time and leave you suffering the cold.
Contractors work with central heating systems all the time. They can easily determine the best way to accomplish the installation, have the right tools and know what to check for reliable operation. The home investment of purchasing a new Chicago heating unit is expensive enough. You are better off paying the cost for installation than risking additional costs.
Complimentary New Furnace Quotes
Interested in learning more about a new furnace for your Skokie, IL area home? Contact the team at Topline HVAC now for a free estimate on a new system! We offer financing with monthly payment options for your convenience. We look forward to keeping you warm in your Chicago, Morton Grove or Lake Villa area home this winter!
Schedule Free Estimate